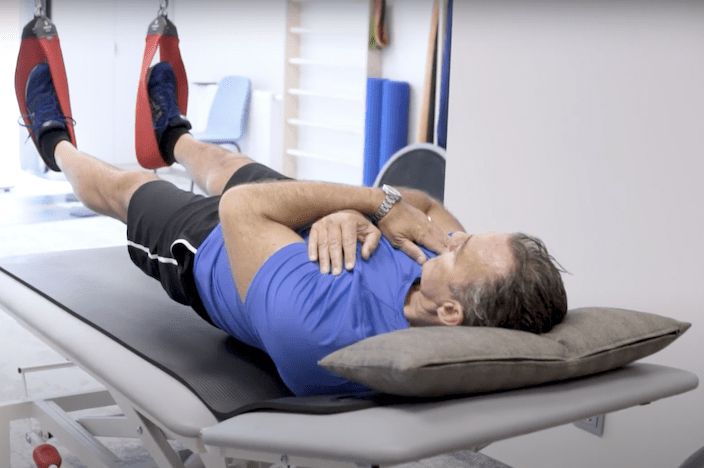 Jonathan Edward has been active all his life and sports played an important part in his everyday activities. He was a wakeboard instructor and a semi-professional rugby player. However, he has been suffering from hip pain for several years now and finally has decided to take care of it in order to continue his active lifestyle.
Jonathan Edward was diagnosed with osteoarthritis of the hip joint. Sports activities may have contributed to the development of the disease, due to the fact that microtraumas are experienced during running, which lead to faster cartilage degeneration.
A hip joint consists of a round femur head which tightly fits into a socket (acetabulum). Normally surfaces of the acetabulum, as well as the femur head, are both covered with a thick layer of cartilage. It cushions the bones where they meet to form the joint. However, due to various medical conditions, such as osteoarthritis, hip cartilage is damaged and can no longer perform its function.
Closer look at Jonathan's hip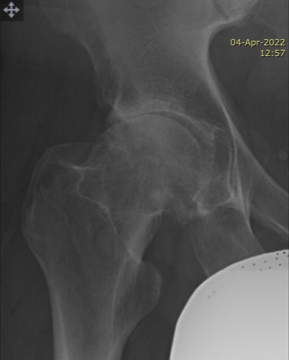 The patient underwent a total hip replacement operation, this operation was necessary because the patient had complete cartilage degeneration of the hip joint and to this day there are no medications that would regrow the lost cartilage.
Firstly, a surgeon makes an incision along the side of the hip and divides and repositions the muscles that cover the joint. Then a socket (acetabulum) is prepared by removing damaged cartilage and bone spurs. Depending on the implant and technique, a surgeon may use bone cement to implant and tightly anchor a metal socket in the acetabulum. A femoral part of the joint requires preparation as well. The surgeon excises the head of the femur and replaces it with a stem implant as well as a round head implant which are inserted into the femur bone. Finally, implants of the socket and the head are both joined and secured together to form a new functional joint.
Hip joint replacement is not an urgent operation, the patient's life is not in danger if it is not performed, so it can be postponed, but a later performance leads to greater disability of the patient, atrophy of the surrounding muscles and slower postoperative rehabilitation.
Recovery and rehabilitation after the hip replacement
Since Jonathan has been in sports all his life, outpatient rehabilitation with Physiotherapist Prof. Laimonas  after the surgery was the right choice for him, because it is more intense and active. After returning home Jonathan will need to follow an individual gym exercise program prepared according to physiotherapist's guidlines. In 3 month time he will be able to move with no limitations or pain and come back to his normal level of activity and sports.
Jonathan's journey in Nordorthopaedics
FAQ about hip replacement with our surgeon
13 patients' case studies