Raymond is a 74-year-old former athlete who in 2017 competed on Team Canada in the World Championship, long course triathlon and developed an injury during the running stage. His main goal is to return to competitive running. Though high tibial osteotomy (HTO) surgery is usually ideal for patients who are under 65, every case is different and the surgeon makes an individual decision. This case is not very common, but Raymond is very active and was well-informed about the procedure and what it entails.
Raymond was diagnosed with post-traumatic medial knee osteoarthritis, therefore he was a suitable candidate for a surgery known as a high tibial osteotomy. HTO is an orthopaedic surgical procedure aimed to correct misaligned knees. It is usually indicated for those patients who have early-stage osteoarthritis and damaged articular surfaces on one side of the knee joint. 
If the patient is physically active and has osteoarthritis with a deviation of the mechanical leg axis at the expense of the tibia, both, knee replacement or HTO is possible. 
In the case of HTO, the patient's native joint remains, only the load points are changed by unloading the injured side. After the surgery and fully healed, the patient can fully weight-bear without restrictions. Later, if the osteoarthritis progresses, knee replacement might be needed. In such a case, the patient should be well-informed of the possibility and be prepared for it.
Raymond tells his story and our orthopaedic surgeon Dr Arnoldas Sipavicius explains Raymond's case and surgery.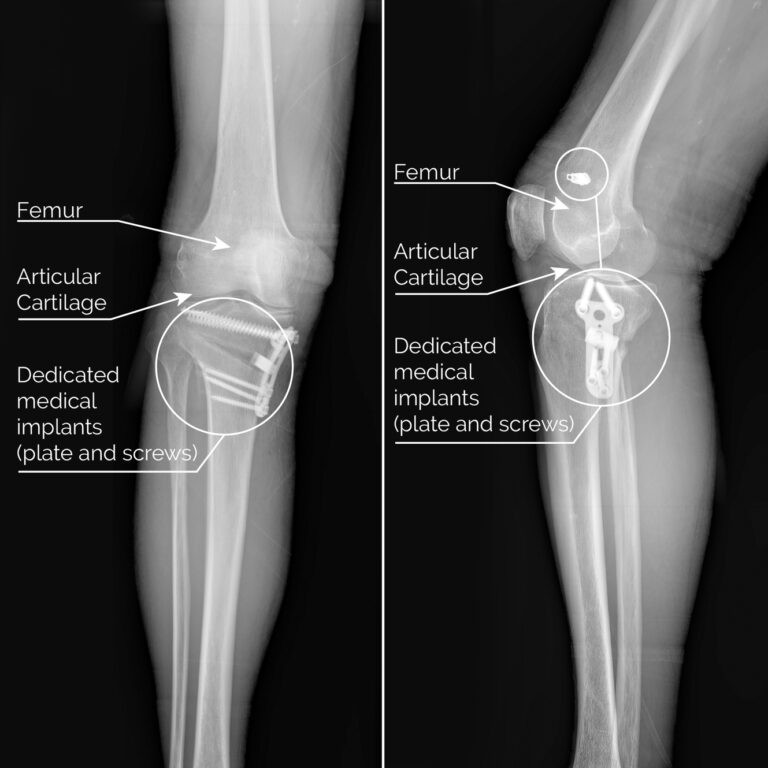 Raymond's knee after the surgery
​High tibial osteotomy procedure takes approximately 2 hours to complete. During surgery, a surgeon uses an arthroscope to look inside the joint and evaluate the condition of the cartilage, ligaments, and meniscus. After the desired correction of the axis, the bone is fixated with dedicated medical implants (plate and screws). Such alteration changes the weight-bearing axis and shifts the weight from the damaged arthritic part of the cartilage to a healthy side, thus relieving pain.
High tibial osteotomy is ideal for active, non-obese patients who are younger than 60 years old. In some cases, like Raymond's, a high tibial osteotomy can be suitable for older patients if arthritis damage is in just one area and the person has been leading an active lifestyle like doing professional sports or has a history of lifelong sporting activities.   
The final result depends on a lot of factors and variables. A procedure might delay endoprosthesis, but patients need to be aware that other surgeries might be required if the osteoarthritis progresses. 
The healing process usually takes around 6 weeks until the patient is ready to come back to daily activities. Full recovery usually takes up to a year and long term rehabilitation is needed. 
Raymond's surgery in Nordorthopaedics
13 patients' case studies